18 Wheels of Steel Extreme Trucker 2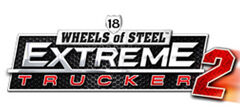 Relase Date 6 january 2011
Predecesor: 18 Wheels Of Steel Extreme Trucker (2009)
Succesor: -

Extreme Trucker 2 succeeds its predecessor, 18 Wheels of Steel: Extreme Trucker by adding two new extreme locations: Montana and Bangladesh Old locations Tuktoyaktuk winter road, Yungas road and Australian outback returned with new roads, New trucks and new loads. There's a new ranking system and now the need for "fuel" (although its not to big of a obstacle). All maps have new roads, new trucks and new cargo as with the original roads, trucks and cargo. 5 rank from all location new item is radio map show in the mision and new options all is new mode select you location to unloked. It is a continuation of 18 Wheels of Steel Extreme Trucker 2009.  
LocationsEdit
Community content is available under
CC-BY-SA
unless otherwise noted.